The Sonja Haynes Stone Center is proud to announce the 2021 Sean Douglas Leadership Fellows!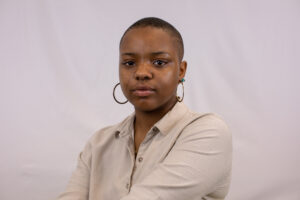 Jailyn Neville is a sophomore Media & Journalism student from Greensboro, NC. She is a creative storyteller that uses art and intention to tell the stories of Black audiences. As a Fellow, she hopes to gain valuable exposure and experience working under the guidance and mentorship of experienced professionals. Likewise, she hopes to incorporate her values of freedom, creativity, and consciousness into the work being done in the Stone Center this upcoming year. Jailyn's goal is to create an online-networking platform where Black creatives share their work and ideas while releasing themselves from the pressures of the white gaze. The platform will prioritize Blackness without forcing that to be the sole identity/conversation of its contributors.
Grace Stevens is a junior from Mount Holly, NC majoring in Business Administration with a minor in Environmental Science. As a fellow, she hopes to increase awareness of resources at the Stone Center and help cultivate a space where people of color at UNC-Chapel Hill can congregate and feel a sense of community and ownership. Grace's goal in life is to find joy in everything she does. She strives to be a better version of herself every day; more curious, thoughtful, understanding, compassionate and constantly learning.
The Sean Douglas Fellowship supports professional development experiences for students through internships with the Stone Center. The Fellowship, named for UNC at Chapel Hill alum Sean Douglas, a U.S. Army veteran, aviator, and community leader, provides semester-long paid internships. Students work directly with Stone Center staff to develop meaningful service and engagement experiences on campus and in the surrounding communities. For more information on how to support this and other programs, visit the Giving Opportunities section of our website.